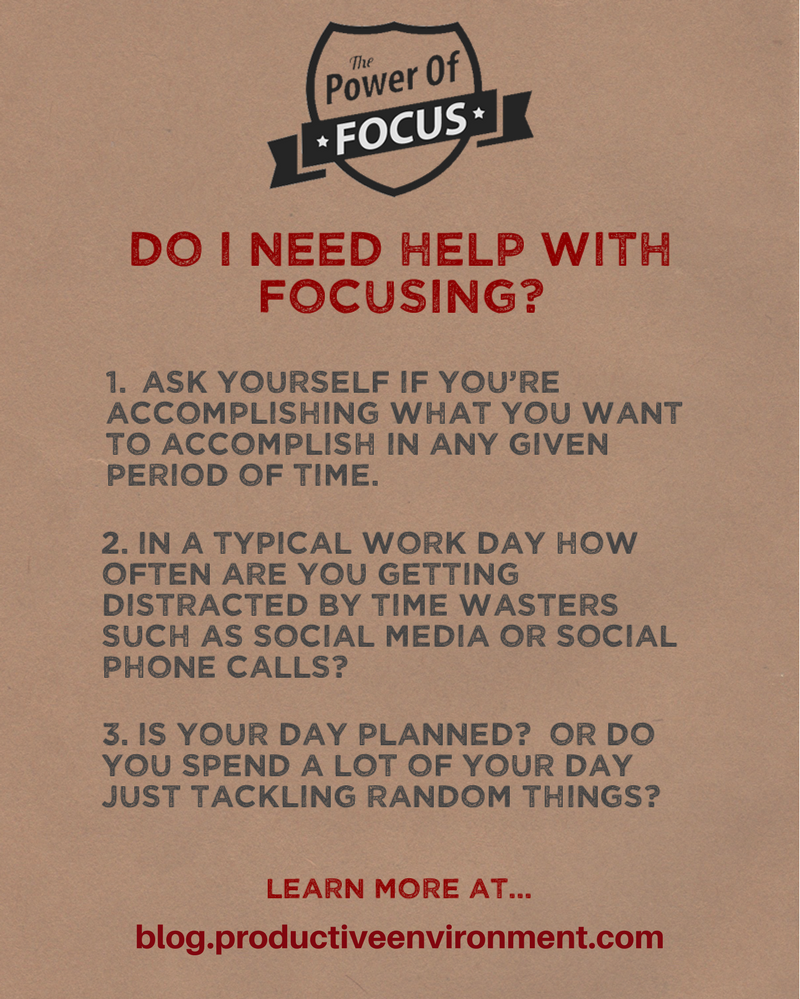 When you're running a business or trying to accomplish any specific goal, FOCUS is critical. It can be the difference between achieving your goals and letting them slip way. Before you can improve your focus, it's important to assess where it is right now.
But gauging your level of focus can be a challenge. How do you measure something that can't be attached to a number? You're not looking to quantitatively measure your focus. Instead you want to get an idea of the big picture.
Our mantra is "Accomplish Your Work and Enjoy Your Life". One way you can gauge your focus is by asking yourself if you're accomplishing what you want to accomplish in a given period of time. That could be a daily task list or it could be weekly or monthly goals that you've set.
It IS possible that you've set goals that are unattainable, HOWEVER, often if you aren't reaching your goals, it's likely because you're distracted and not focusing on a specific task or goal for a specific period of time. It's important to take a hard look at your goals and determine what the problem is.
We have a client that is regularly overwhelmed by what she needs or wants to do. Before investing in hiring additional admin help, it's important to determine if she's focusing on the right things at the right time---or if she's simply reacting to whatever comes into her office and adding it to her ever-growing task list just because it's there.
She purchased our Office Transformation Quickstart™ plus Productivity Coaching. She has set up part of her office with our Productive Environment Finding SYSTEM™, and we've started having her put incoming items through a filter----She uses our Swiftfile Solution™ tickler system (which she LOVES) to manage her day to day tasks--So now she asks herself, "Is this item Swiftfile Worthy?" We both get excited when she's able to 'Toss' something when she uses our File-Act-Toss SYSTEM™! The more she can do this, the more she can focus on the things that really matter to her company's bottom line--and she can filter them through her daily task system until they are complete.
It can be beneficial to spend a few days tracking the time you're spending on specific tasks. For example, in a typical work day, how often are you getting distracted by time wasters such as social media, electronic notifications or phone calls?
Even if you use social media for your business, are you getting distracted by personal interactions? (It's SO hard not to!) You may find that when you keep track of a few days, you're spending much more time away from work than you realize.
Keeping a journal is a great way to gauge your focus levels and see where you can make improvements. It can help you get back on track and improve your time management skills for better performance.
Is your day planned? Or do you spend a lot of your day just tackling random things? People who have the most focus tend to plan their day and schedule what work will be done during specific times. If you're not doing this, chances are your focus can be improved. Many of our Certified Productive Environment Specialists™ teach their clients a concept called 'Time Blocking', which has a tremendous impact on their productivity.
You should also think about the breaks that you're taking throughout the day. Many people think that taking breaks means a lack of focus, but the opposite is true. If you never take a break, you may actually become more distracted. The most focused people take scheduled breaks so that they can refocus their mind. Get up, walk outside if you can---drink some water, do some light stretches, walk the dog! (my personal favorite :) Scheduled breaks can be quite productive!
If you're questioning whether or not you're focused in your work, chances are you're struggling in this area. The good news is that even if you struggle with it, there are several specific things you can do to improve your focus and increase your productivity.
A Certified Productive Environment Specialist™ (CPES) can help you organize your time, space and information so you can focus, and ultimately accomplish your work and enjoy your life. Click the blue link below to complete our Productive Environment Scorecard™ so we can connect you with a Specialist for a complimentary consultation! :)

If you think you'd enjoy a career teaching others how to become systemized, organized and focused, click the red link below to find out how to become a Certified Productive Environment Specialist™.


Up next...The Power of Focus #3: Exercising Your Way to Better Focus.

Cheers!
Andrea
---
Andrea Anderson is President of Productive Environment Institute (PEI), a training institute for Business Organizers & Productivity Consultants around the world.