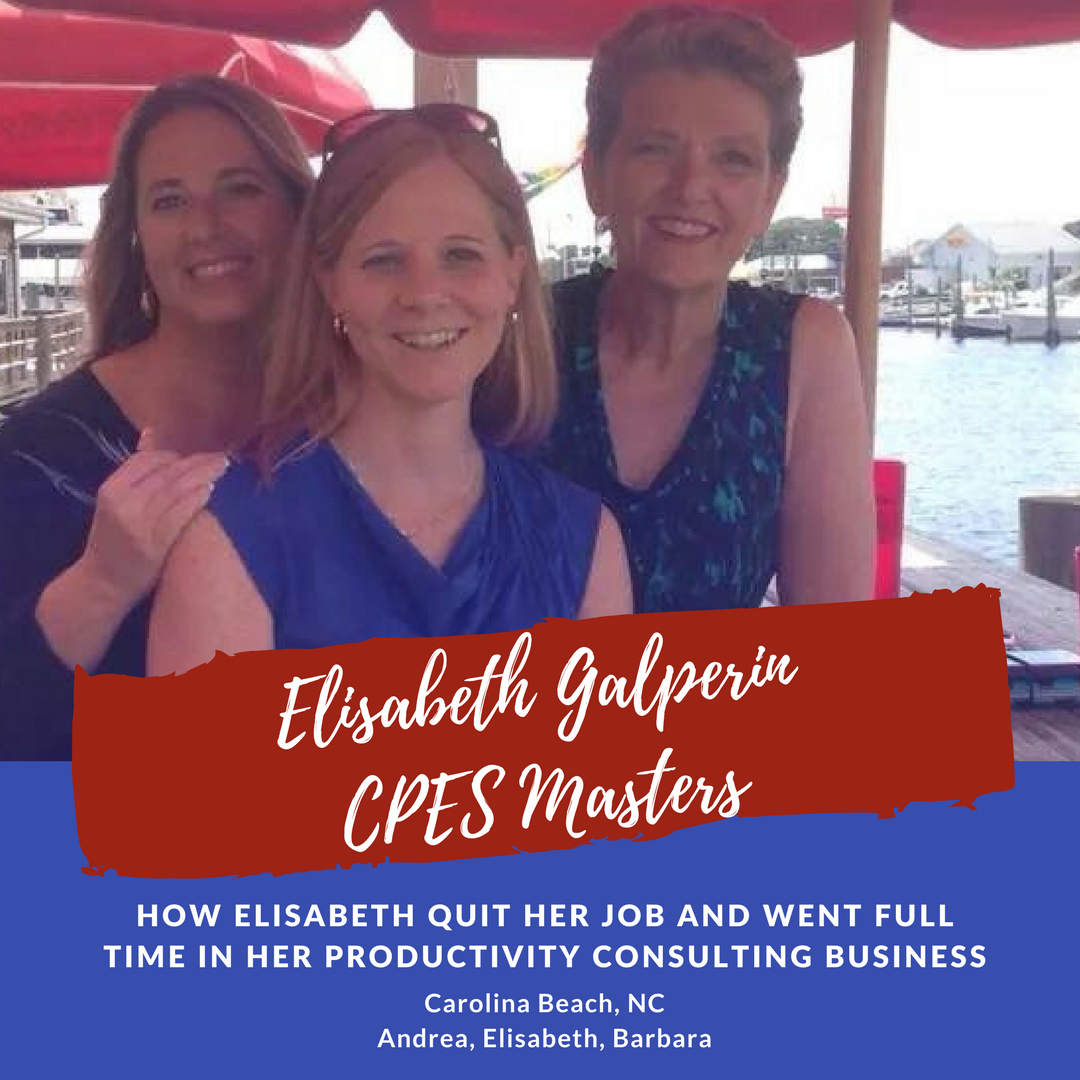 Elisabeth was worried. She was married and had one young son, with another on the way when her family moved from NC to OH. She was basically starting over with her Organizing & Productivity Consulting business.
A couple of years earlier, Elisabeth made the very wise decision to become a Certified Productive Environment Specialist™ (CPES). At that time, Elisabeth was still working a couple of days a week at her job to help with the family finances. She was making money in her business, but was ready to take it up a notch---she was ready to create a game plan to double her income, leave her job and finally build her business full time.
In order to do that, she knew she needed 1:1 coaching and structured accountability---so she signed up for the CPES Masters Program.
Elisabeth joined Barbara & me (Andrea) for her Private Business Development Retreat in Carolina Beach, NC for 2 days to focus 100% on her business--including downtime on the beach to refresh her mind and spirit! :)
On the first day, we worked together to identify her target market. By specifically identifying her ideal customer persona, Elisabeth was then able to create marketing content using words that the very people she wanted to serve could identify with.
We also identified which services that she would like to deliver. As part of the CPES Program, she became Certified to deliver the Total Office Transformation™--an organizing intervention for one person in one office; and a Productive Environment Day™--an event that helps multiple people in a shared space, such as a small business or a department in a larger company--to declutter their offices and be able to answer The 7 Information Management Questions™ that every successful company must be able to answer.
"She realized she excelled at working with men in business with Type A personalities, who are driven to distraction."

While she was now trained and Certified to deliver both services, she learned the importance of choosing ONE core service for ONE core audience---at least in the beginning. Elisabeth realized that she enjoyed working with individuals vs groups, and while she can certainly help both men and women, she realized that she excelled at working with men in business with Type A personalities, who are driven to distraction.
Together, we determined that the best service for her to focus on would be the Total Office Transformation™ plus Ongoing Productivity Coaching. So she went to work to do just that.
"Her goal was to quit her job entirely by Summer 2017----and she did!"

Elisabeth's new focus, coupled with 1:1 coaching, allowed her business to flourish! As her business income increased, she was able to cut back to just one day a week at her part time job. Her goal was to quit her job entirely by Summer 2017----and she did!
Elisabeth reached her income goal, quit her job, then set a new goal to double her income in 2018. In order to achieve that goal, Elisabeth committed to continued 1:1 coaching through the CPES Masters Program, as well as participation in a CoWorking Accountability Group with her fellow CPESs.
She is well on her way to reaching another milestone in her business by accomplishing her work AND enjoying her life with the support of Productive Environment Institute.
---
Watch Elisabeth in action as she teaches a workshop at our Less Clutter More Business Retreat called "Managing Time, Managing You!"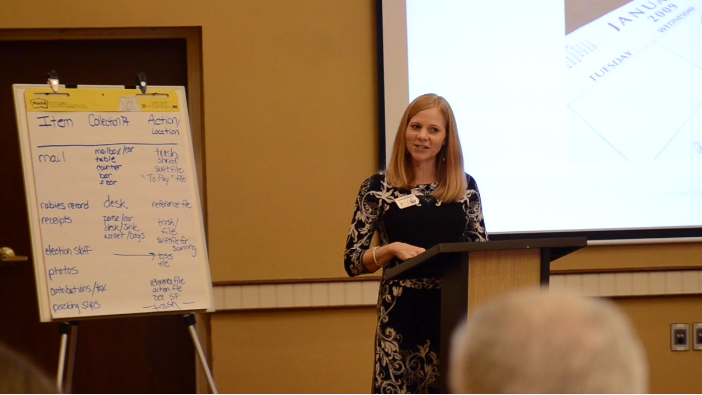 ---
If you're a Productivity Consultant, or considering becoming one, be sure to register for our upcoming webinar below!